Secrets of Longevity events and lectures are now on!
The latest longevity events featuring notable speaker Zak Martin-Kilgour are regularly updated on this page. Other longevity workshops with other acclaimed speakers are often hosted by him as well! Please see the details below:
Herbal Elixir Nutrition ~ Nov 20th 2010: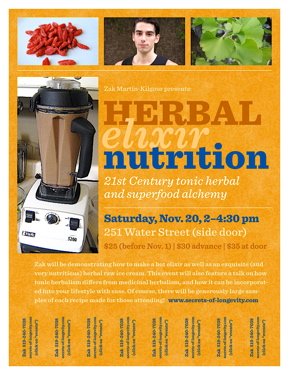 21st Century Tonic Herbal and Superfood Alchemy
Time: 2pm-4:30pm
This event will be hosted at 251 Water st. (Side Door) in Guelph, Ontario, Canada. If tickets are purchased in October (2010) they are $25, after Nov 1st they are $30 and then they will be $35 if purchased at the door. The number of people has to be accommodated with supplies, chairs, quantities of items etc, so it's best to register A.S.A.P. with the form below:
Zak will be presenting two exquisite blended herbal elixir recipes. Of course, there will be generously large samples of each recipe made for those attending!
Specifically you will be shown how to make a hot elixir as well as a delicious (and very nutritious) herbal raw ice cream. This event will also feature a talk from Zak on what tonic herbalism is and how it can be beneficially incorporated into your lifestyle with ease.