Check Out the Earlybird Pricing on My Upcoming Workshop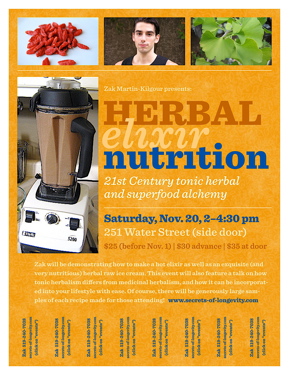 Hello!
If you live in the Southern Ontario area, you won't want to miss my upcoming workshop titled "Herbal Elixir Nutrition: 21st Century Tonic Herbal and Superfood Alchemy". This 2.5 hour workshop will feature a demonstration of two exquisite blended herbal elixir recipes. Of course, there will be generously large samples of each recipe made for those attending!
Specifically you will be shown how to make a hot elixir as well as a delicious (and very nutritious) herbal raw ice cream. This event will also feature a talk from me on what tonic herbalism is and how it can be beneficially incorporated into your lifestyle with ease.
The extended early bird special ends today, Wednesday Nov 3rd, at midnight! You can save $5 and get your ticket for $25 if you buy it before tomorrow. After that the price goes up to $30, and then it'll be $35 at the door. To purchase your ticket online (or you can pick it up from me in person) and/or to learn more about this event (time, date, location, etc) click this link to go to the event page on my website:
http://www.secrets-of-longevity-in-humans.com/longevity-events.html
If you're on facebook you can click "attending" on the workshop on this event page and interact with some of the other people that will be there (you can coordinate rides if you're from out of town for example):
http://www.facebook.com/#!/event.php?eid=158138457551048
Enjoy this recipe I made on Hallowe'en for my youtube channel as a preview of what's to come in the workshop.
Hallowe'en Pirate Raw Chocolate Egg Nog:
(Click this link if the video doesn't appear below)
Embrace Life Without Limits,
Zak
P.S. If you wish, please add me as a contact or subscribe to me on any of the sites listed below: Twitter
Youtube
Facebook Profile
Facebook Page