Contents of This Email:
1. I just took up a new raw food bodybuilding exercise regime!
2. This exciting new superfood is a cornerstone to my exercise program.
3. I just made 3 new herbal tinctures in time for the holidays.
---
(1.) On Dec 1st I began a raw food bodybuilding program
I started on this new regimen with several intentions, one of which was to gain weight in lean muscle mass. My interest in this is partly to be an example of health and to counter the "skinny raw foodist" stereotype. You can learn more about this and watch my first three video updates on this page by clicking here.

I began the program at a little over 137 pounds (my height is 5'9, so I was still within a healthy BMI range) and have already reached 143 pounds. That is more than a 5 pound gain in less than a month! Something I am quite pleased by. It's hard to determine whether this weight is all muscle or some muscle with some body fat or even some water, but nonetheless I am feeling fantastic, fit and stronger than ever!

The months ahead will give a more accurate picture of my progress. I'll be reporting more updates at that time, including more information on my training methods and what supplements, herbs and superfoods I am using. Read more below on this page on my site:

http://www.secrets-of-longevity-in-humans.com/raw-food-bodybuilding.html
---
(2.) Pine pollen benefits a wide array of body systems and most likely grows in your own backyard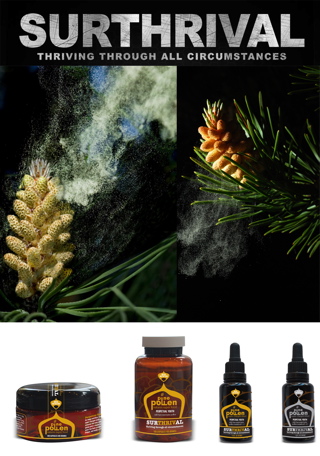 Pine pollen powder benefits all living things by being the most potent plant source of testosterone known. This fine yellow powder seems to settle on everything (even vertical surfaces like cottage windows in Georgian Bay!) during the spring. This incredibly potent androgenic substance literally gives a much needed growth and libido boost to almost all plants and animals that come in contact with it after a long winter's hibernation.

Pine pollen powder has been used extensively in traditional cultures throughout Asia. The earliest mention of pine tree pollen's medicinal use is in Chinese herbalism from the classic text "The Pandects of Materia Medica" by Shen Nong. The benefits of pine pollen have also been used by the Koreans where it is sold in boxes much like baking soda or other baking ingredients. It is used in food for it's amazing mineralization and adaptogenic properties.

To learn more about the wide array of nutrients, androgens and other phytochemicals contained in pine pollen, definitely read the newest article on my site on this amazing live superfood:

http://www.secrets-of-longevity-in-humans.com/pine-pollen-powder.html

You can also get pine pollen tinctures as well as pine pollen powder and capsules directly from Surthrival by clicking here.
---
(3.) It's possible to make herbal tinctures 8x more potent then what you can get at any health food store!
Tincture control is an audio and video program that is a step by step guide on the process of creating high potency herbal tinctures. The program gives several unique tips that go beyond basic making that allow for a greater concentration of the herbal properties to end up in the alcohol solution that you are working with.

If you've ever bought the commercial tinctures offered at most health food stores you'll know that these are weak and you can barely taste the herbs that they contain. The end result of tinctures made with the Tincture Control Method is a thick, opaque tincture with an almost syrup-like consistency. When one considers the value of being able to make these in one's own home with a few simple tools, you'll never buy low quality herbal tinctures again!

Below are two videos where I made 3 herbal tinctures using the Tincture Control method. I talk about and show some of the basics of making tinctures, but to know the full process as well as get many other tips on herbs and tincture making in general, you'll have to check out the program by clicking here. I also provide a list of the herbs I used in these videos just below the second one.

Recipe: 3 Tinctures For the Holidays Part 1 (If the video doesn't appear below you'll have to watch it on youtube by clicking here):

Recipe: 3 Tinctures For the Holidays Part 2 (If the video doesn't appear below you'll have to watch it on youtube by clicking here):

Herbs from the first tincture I made:
~Nettle root
~Nettle leaf

Herbs from the second tincture I made:
~Pau D'arco
~Cat's claw
~Chanca piedra

Herbs from the third tincture I made:
~Horsetail
~Ginkgo biloba
~Holy basil

Happy Holidays and You Have My Best Wishes for the New Year!
Zak

P.S. If you wish, please add me as a contact or subscribe to me on any of the sites listed below:

My Blog
Twitter
Youtube
Facebook Profile
Facebook Page